Archive for March, 2008
March 3rd, 2008 Categories: Restaurant Reviews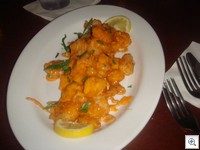 I was fortunate to be invited (by my daughter, Kelly) to the soft opening of Giuseppi's Wharf in Niceville last Friday night.  Giuseppi's has closed their location in Shalimar and reopened in a much more scenic location on the water in Niceville.  We were seated in the bar area which was very spacious with several nice televisions, but our seating also overlooked the water and boats docked right up to the wharf.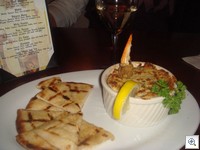 Owners Ken & Rusty have done a great job in turning this location in to what should be the go to place in the Niceville/Bluewater Bay area.  Melissa is the young lady out front who coordinates the whole thing and does it all efficiently and with an engaging personality.  We started with firecracker shrimp (pictured above in the first paragraph) and the hot crab dip pictured here (click on all pictures to enlarge and then back arrow key to retun to article).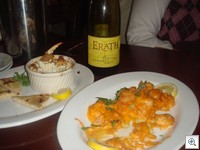 The crab dip tasted of fresh crab, not too much filler and very good toasted pita bread accompanying. The shrimp dish was particularly good and again fresh shrimp, the coating still nice and crispy but not too thick and the sauce provided a really nice creamy, spicy kick.  We paired all this with an Erath Pinot Gris from Oregon that is also available by the glass – an outstanding economically priced wine really good with all the seafood dishes.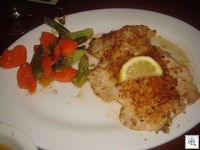 After a very nice house salad with feta cheese, cucumber, tomato, olives and greens we made our way to the main courses.  My guest went with the snow crab which was a generous portion of crab with a butter dipping sauce while Kelly went with the Parmesan Crusted Grouper.  A little dusting of bread crumbs gave the dish a nice crisp crunch blending in the parmesan with the fresh grouper.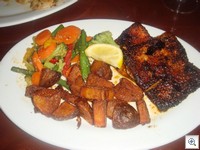 I went with the blackened mahi mahi, which turned out to be an excellent choice.  You can choose other methods of preparation (baked, grilled, etc) and side accompaniments as well – I went with the habanero infused olive oil.  You also have a choice of side vegetable, and I opted for the Cajun fries.  The mashed sweet potatoes looked good, but they weren't available for this soft opening.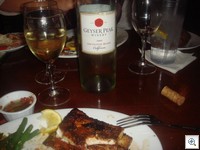 We decided to go with the Geyser Peak Sauvignon Blanc with our main courses (this was also particularly good with the feta cheese based salad).  This is another good wine that would go well with all Giuseppi's seafood dishes.
I wish we could have arrived before dark, as I wanted to share some pictures of the restaurant and particularly the great views of the water and the boats.  Since I didn't, you should go and send some pictures in for me to post here.  There is a nice separate dining room along with the spacious bar, but no matter where you sit – Giuseppi's Wharf is a very good dining experience on the water in Niceville.  Call 850–678–4229 for directions and/or more info.
Spoken by Ronnie Coleman | Discussion: 4 Comments »