Archive for the 'Sandestin Living' Category
August 9th, 2007 Categories: Real Estate News, Sandestin Living
Sandestin had an average month in homes sold (compared to the last couple of years average sales) with six homes closing. They ranged from a three bedroom, two bath, 1300 sf home in Linkside for $300,000 to a four bedroom, four bath, 3000 sf home for $1,126,500 in Genoa – a newer subdivision surrounded by The Raven and Baytowne golf courses.
Homes Sold in Sandestin – June

Total # of Listings 15
Lowest Price Listing $300,000
Highest Price Listing $2,100,000
Average Price $694,427
Avg. Price/SqFt $323
Avg. Days on Market 192
(Click on the graph below to enlarge)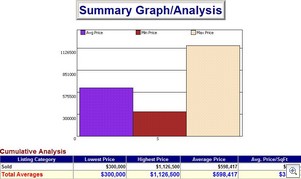 At the beginning of July there were 190 homes for sale in Sandestin. This included an entry level, two bedroom, two bath, 1121 sf home in Linkside listed at $310,000.
The top end of the spectrum had a four bedroom, six bath, 5800 sf home in Burnt Pine being offered at $5.4 million. That's a lot of dough, but it does include 112′ on the bay and a tropically landscaped 1.52 acres of land. This is the original lot of the developer of Sandestin Bay Estates.
Spoken by Ronnie Coleman | Discussion: 1 Comment »