July 20th, 2007 Categories: Restaurant Reviews, Seaside Living, South Walton Living, Watercolor Living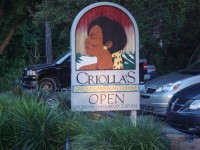 You know I'd been feeling a little melancholy about Criolla's in the past year or so.
Johny Earles landmark restaurant seemed to have lost a little of the panache that it had held for so long – since 1989 to be exact -although I felt the food was always very good and the most creative on the coast. I could easily digress back to the 1980s when I used to visit the area just to eat at the wonderful Paradise Cafe in the site where the now legendary Red Bar resides in Grayton Beach. Johny was co-owner of Paradise, met his wife to be Debbie there and then moved on to Criolla's.
Things took off from there and Criolla's has been named "One of Florida's Top Twenty Restaurants" since 1991 by Florida Trends Magazine. Still it needed a little something, something as things were a little too quiet and the crowd was almost too well behaved . I'm happy to say Criolla's has gotten the shot in the arm that it needed with the complete rework of the bar area (formerly four seats and several tables) that now allows about a dozen diners to sit at an elevated bar and watch many of the dishes prepared in the center section – oftentimes by Johny himself. In addition, the music has been turned up a few decibels such that there now is a vibe in the place which seems to feed over in to the dining rooms as well.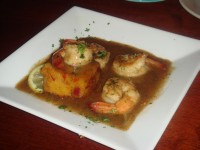 On a recent outing my guest and I were joined by Richard and Dee McNeese (McNeese Title – www.mcneesetitle.com) for an excellent Criolla's experience that made me have the same feel good feeling that I've enjoyed many times there over the years.
My guest and I always share the excellent Barbecue Shrimp with Tasso Cornbread appetizer – an absolutely excellent dish that will be gone without a bite for me if I talk too much. This dish is really good with chardonnay, and we had a glass of Mer Soleil Silver (unoaked) and Dee ordered a bottle of Martinelli – I know that seems like a lot, but she was thirsty.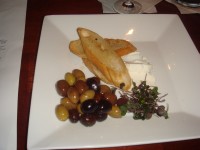 We all shared the Hummus and Guacamole Dip with Tropical Root Chips and then the Marinated Olives and Goat Cheese with Toasted Portuges Baguette.
As with all the dishes, the presentation is excellent at Criolla's. Richard is a cabernet sauvignon guy, so he scored a bottle of Dalla Valle Napa Valley and pinot noir being my thing I selected a bottle of Merry Edwards for Vicki and me.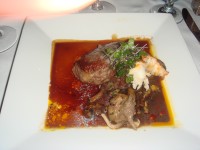 Things were starting to get a little hazy in keeping up with the McNeese's dishes, but I know my guest always wants dessert so we shared the Pan Seared Ribeye Steak and Butter Poached Lobster Tail with Wild Mushrooms, Truffle Butter and Cabernet reduction. My guest likes lobster, I like steak and we both like mushrooms and pretty much everything goes with pinor noir (although I think I remember Dee slipping a little chardonnay over to her at some point).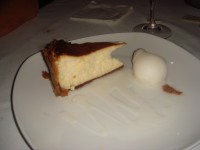 On to the favorite part of the meal – the dessert.
All of us had the excellent Criolla's Coffee, but we had the Key Lime Cheesecake, Graham Cracker Crust, Chocolate Ganache with Lychee Sorbet.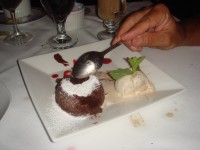 The McNeeses finished off their cabernet by pairing it with the decadent Warm Chocolate Gateau with Peppermint Mocha ice cream (note the picture to the right as Richard is thinking of becoming a hand model if the title business goes south).
There are many other fabulous desserts and dessert wines available. My guest and I go to Criollas sometimes just for the desserts alone.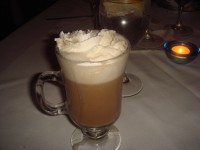 If you thought Criolla's had lost a step, go again. There's a better vibe and the food and wine list are as good as it gets in South Walton.
Johny has always been our number one celebrity chef in South Walton (the nod goes to Tim Creehan in Destin) and after years of cooking at events like the James Beard Foundation, the Sonoma Valley Wine Auction, the Napa Valley Wine Auction and many more – Johny has now gotten Criolla's back as a must visit destination in Grayton Beach. Get more information on Criolla's at www.criollas.com or call them at 8502671267.
This entry was posted on Friday, July 20th, 2007 at 6:30 am and is filed under Restaurant Reviews, Seaside Living, South Walton Living, Watercolor Living. You can follow any responses to this entry through the RSS 2.0 feed. You can leave a response, or trackback from your own site.