July 21st, 2007 Categories: Restaurant Reviews, South Walton Living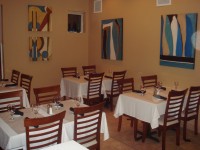 Every town seems to have restaurants that open and close in the same spot that becomes known as a doomed location.
I caught some heat a few years back while writing restaurant reviews for our local paper, The Walton Sun. I wrote about a restaurant in Uptown Grayton and implied that the restaurant was in a "doomed location". Maybe the better/more discrete wording should have been "Secret Location". That restaurant is no longer with us, but there is a very good "Secret" restaurant in that location now that deserves a visit from you – Gravel Road Restaurant in Grayton Beach.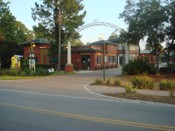 Gravel Road does a brisk lunch business, and I have enjoyed several. It's located across the way from a more well known restaurant, Another Broken Egg Cafe (excellent for breakfast).
You can't see Gravel Road from the highway, but you turn at a Starbucks just past Criolla's going. There are some really cool neighborhoods close by that keep the center busy. I have friends who have homes in The Lake Place in Grayton Beach who walk or bike over to Uptown Grayton.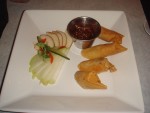 My guest and I had a really nice dinner there last week with our clients and friends, Larry and Laura Blumberg – along with their daughter, Elizabeth, and son in law, Scott.
A bottle of Oregon Pinot Gris (King Estate) for the table and a couple orders of the Shrimp Spring Rolls with Peanut Hoison Sauce. The Hoison sauce had some crunchy peanuts along with the phyllo type dough surrounding the spring rolls.


My guest and I split the Papaya and Cilantro Salad tossed with lime and champagne vinaigarette, served with fresh mozzarella wrapped in prosciutto. I felt the mozzarella/prosciutto was a little dry, but a little olive oil solved that problem and the rest of the dish was light, refreshing and tasty.
The Blumbergs had the House Salad – Mesculan Greens, Asparagus,Walnuts, Red Peppers and Bleu Cheese. I typically would ask to swap goat cheese for the bleu cheese, and even though I didn't order the dish and didn't request it – I have noticed that they are not overly keen on substitutions.


My guest and I got a glass of Morgan Pinot Noir and split the Buffalo Mignon over Tasso Ham and Gouda Creamy Bliss Potatoes, Brussel Sprouts, Truffled Demi-Glace and a side of spaghetti squash note the sliver of spaghetti squash at the left edge of the picture above. That was what Vicki left for me.
The sauce was particularly good as were the vegetables while the buffalo mignon was good but slightly undercooked for the doneness that I had requested. The tasso wasn't quite as assertive as I had been expecting, but tasso can easily overwhelm a dish so it was probably best that it was somewhat dormant. Most of the rest of the table got seafood most notably the (pictured above right) Sauteed Snapper with Seared Sea Scallops, Spaghetti Squash and Broccolini, finished with Citrus Buerre Blanc. I had a bite of that, and it really was a very well done dish.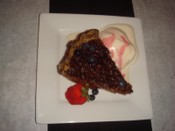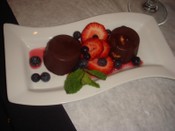 We opted for a couple of desserts and six forks. My guest says it was the best pecan pie she has ever had and plans to go back and buy a whole pie. We all were sharing that along with kind of a Reeses cup made with hard chocolate and crunchy peanut butter in the middle.
I cut a small slice of the pie to share with my guest, but I talked too long to Larry and cant personally give you a review of the pie. but I trust her review. I did like the Reeses cup a lot with it's hard chocolate outer shell and crunchy peanuts in the middle.This was a really enjoyable dining experience for all. This restaurant is hard to find for the tourists in our area, but it's worth the search. Hopefully enough of us locals will support Gravel Road and transform it from our favorite "Secret" Restaurant to a well known restaurant.
This entry was posted on Saturday, July 21st, 2007 at 4:26 pm and is filed under Restaurant Reviews, South Walton Living. You can follow any responses to this entry through the RSS 2.0 feed. You can leave a response, or trackback from your own site.