July 23rd, 2007 Categories: Restaurant Reviews, South Walton Living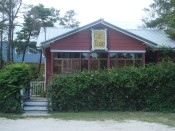 Do you ever need to take that special someone to a romantic, intimate, adult oriented little restaurant? There's no need to fear because we've got just the place, Cafe Tango in Dune Allen Beach.  This small cottage is framed with a jasmine covered walkway and has only about a dozen tables.  The mustard colored walls, wood ceiling and subdued lighting create a warm and inviting ambiance. 
 

The meal begins with some outstanding extra virgin olive oil, a large pile of parmesan/romano cheese and a pinch of raw garlic.  I liked to put a little of this on just about all parts of the meal except dessert.  I also like to place the oil/cheese on one side of the Tango's House Salad and their excellent ginger soy vinaigrette on the other half. 

On a recent visit my guest and I started with the Grilled Jumbo Sea Scallops, served with Caramelized Belgium Endive, and finished with a Key Lime Honey Sauce.  The scallops were cooked perfectly, the sauce is slightly too sweet for my tastes – so I asked for it on the side.  My guest thought the dish was great and that the sauce was fine.  A glass from the bottle of King Estate Oregon Pinot Gris that we ordered along with some lemon juice really made the dish sing for me. 
Cafe Tango has a very good wine list of about 100 bottles in addition to about a dozen wines by the glass and another half dozen dessert wines.  I like the Don Miguel Pinot Noir when I have their excellent duck dish here.  We didn't get the duck this time, but it's finished with a Madeira Wine, Plum and Orange Reduction Sauce.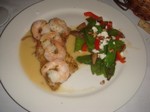 Instead, we then went with my favorite dish at Tango – Pistachio Crusted Grouper, drizzled with Amaretto Buerre Blanc and topped with Jumbo Gulf Shrimp.  This dish comes with Mashed Potatoes and an excellent vegetable medley that includes snow peas, mushrooms, roasted peppers and goat cheese.  If you are on a diet go with all vegetables – on both veggies and potatoes I come back with  the olive oil/cheese mixture.  This is really an outstanding dish and this occasion the grouper was tougher than I've ever had it, but I've had it 20 times and this was the first time it wasn't just right – so I see it as an anomaly.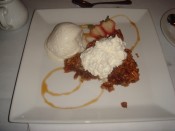 My guest fixated on the caramel pecan pie topped with whipped marscapone cheese and vanilla bean ice cream casually on the side.  I only take (or get) one or two bites of most desserts, but I found the combination of ingredients to be definitely good eats.  There are a couple of nice dessert wines by the glass from Bonny Doon (the Framboise and the Muscat) that I have enjoyed in the past – but we passed on this evening. 

This is easily one of the most intimate and romantic restaurants in South Walton – and really anywhere on the coast.  So, if you feel like an intimate getaway – try Cafe Tango in South Walton.  Reservations at 850-267-0054.
This entry was posted on Monday, July 23rd, 2007 at 11:16 am and is filed under Restaurant Reviews, South Walton Living. You can follow any responses to this entry through the RSS 2.0 feed. You can leave a response, or trackback from your own site.