July 24th, 2007 Categories: Restaurant Reviews, Rosemary Beach Living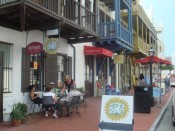 Imagine yourself after a relaxing day at the beach, you've finished a long bath and now you're dressed for a nice dinner. But wait, it's still too early for your reservations.
Why not head to the east end of CR-30A and have a glass of wine with friends first?
The perfect place is nestled amongst the shops and homes in Rosemary Beach, and it is the neighborhood bar – Courtyard Wine and Cheese Bar. Its tucked away but worth the effort to find it.

This really cool and unique little wine bar was previously known as Medusa Rouge and was owned by Shane Hicks, a former studio and touring musician who moved to paradise from Nashville.
When Hicks decided to go back to music, the Krutz family from Jackson, Mississippi stepped up to take the reins. Bryan and Patrick are in their late twenties but know a whole lot about wine.

Bryan is actually the brother that you will see year round. Patrick spends a little time in Rosemary Beach, but spends most of his time in Sonoma, California producing about 700 cases of wine a year. I caught up with Patrick a while back while having a glass of wine with a friend and client, Norman McLean of Nashville. Patrick pointed out that for the most part he makes pinot noir and chardonnay and makes the wine at a shared crush facility in Sonoma County. He said that he was able to sell all of his wine through devotees and about five restaurants/wine bars including of course The Courtyard but also the famous Casanova Restaurant in Carmel, California.

The indoor part of the wine bar is really small with only about eight seats at the bar. But adjoining the bar is a really cool little courtyard that can seat about another 25/30 people.
You'll see a musician playing from time to time here – usually on Sunday late afternoons. Also adjoining the bar is a temperature controlled, glass enclosed retail wine area from which a really nice selection of wines can be purchased.

My guest and I were in a couple of weeks ago, and I started with a glass of the Krutz pinot noir while my guest went with a sparkling wine from California. The pinot noir had a tremendous bouquet. It was a classic pinot noir smell in addition to a real full mouth feel and lingering finish – good stuff.
We also shared the only food offered at Courtyard, cheese with fruit and crackers. We got the small cheese plate and not being a fan of bleu cheeses, they thoughtfully swapped out for another slice of manchego.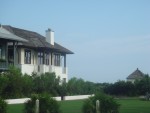 Are you thinking of moving to the beach and hanging out at your new neighborhood bar? If you want to go upscale, this is the place. There are lots of homes for sale in Rosemary Beach, although they are not inexpensive. Currently the least expensive one is only 599 square feet priced at a cool $900,000. But people who invested in Rosemary Beach more than two years ago know that values have skyrocketed.
But it's not necessary to buy a home in Rosemary Beach to enjoy a little vino at The Courtyard Wine Bar. Call 8502311219 if you cant find it.
This entry was posted on Tuesday, July 24th, 2007 at 5:10 am and is filed under Restaurant Reviews, Rosemary Beach Living. You can follow any responses to this entry through the RSS 2.0 feed. You can leave a response, or trackback from your own site.