July 26th, 2007 Categories: Destin Living, Restaurant Reviews

Ahh…Breakfast at Brennan's, Brunch at Commanders Palace or the Palace Cafe, lunch at Mr. B's, dinner at Dickie Brennan's Steakhouse. The common thread is the Brennan family runs all these restaurants in New Orleans.
But now we have our own branch of the Brennan family's restaurant properties right here in Destin – Royal B Restaurant.

Separate branches of the Brennan family operate independently over a dozen restaurants, and we are glad that we have one here in Destin. Brothers Clark and Blake Brennan have opened this operation in the former site of Bianca's Restaurant.
It's located right on Highway 98 not far from Destin Commons, and the lucky people who have homes in Destiny and homes in Destiny By the Sea can walk, bike or golf cart over as the restaurant is located at the entrance to their subdivision.

As might be expected this is one of the top Brunch spots in our area, and they are open on both Saturday and Sunday. On a recent Sunday, my guest and I joined the McNeeses for a highly anticipated Sunday Brunch. We started with mimosas, and things just got better from there.
The New Orleans Style BBQ Shrimp quickly became one of my favorite appetizers on the coast. The spiced butter sauce gives it a decided kick and the smoked Gouda grit cakes are shaped in a ramekin (I'm guessing) and were crisp on the outside and soft on the inside – delicious!

The McNeeses opted for Turtle Soup au Sherry – an item that you don't see on menus in our area. I love Turtle Soup, the McNeeses gave it two thumbs up and my guest won't touch it because she used to have a pet turtle.
This will be an ideal dish when the weather turns cold, but it's real good any time. The quality of the Sherry makes a difference, and Royal B uses the good stuff.

One of the other highlights of the main courses was my Sauteed Redfish (Fish of the Day) crusted in Creole Spice Pecans, lump crabmeat and Meuniere Sauce.
The pecans could have been a little crisper for my personal taste, but I love redfish and this was a good dish.

My guest and Richard both had the Eggs St. Ives – flash fried fish of the day (grouper that day) with creamed spinach, poached eggs and Hollandaise sauce.
This is classic New Orleans brunch stuff, and they have the offerings that come to mind for a New Orleans brunch like Eggs Hussarde, Eggs Sardou and the like.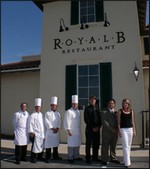 One of the things I'm most impressed with is the friendliness of the Brennans, their Director of Operations, Ed Krepps, and indeed their whole staff. You can tell the corporate staff did a great job of conveying to the rest of the team the ambiance that they were trying to create. This really makes the dining experience all the better.
Do you want New Orleans Sunday (or Saturday) Brunch in Destin? Call Royal B Restaurant at 8502691741 for reservations or visit their website at www.royalbrestaurant.com.
This entry was posted on Thursday, July 26th, 2007 at 1:41 pm and is filed under Destin Living, Restaurant Reviews. You can follow any responses to this entry through the RSS 2.0 feed. You can leave a response, or trackback from your own site.