July 31st, 2007 Categories: Destin Living, Real Estate News
Destiny had a pretty normal month of sales in June as compared to monthly sales over the past couple of years. Three homes were sold in June to include a three bedroom, two bath, 1800 sf home for $499,000. Another home was listed as a Divorce Sale – it was a five bedroom, six bath (four full and two half baths), 3855 sf home for $1,075,000.
Sold Homes in Destiny – June (Click graph below to enlarge)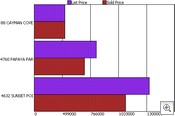 Total # of Listings 3
Lowest Price Sold $499,000
Highest Price Sold $1,075,000
Average Price $749,750
Avg. Price/SqFt $259
Avg. Days on Mkt. 257

At the beginning of July there were 48 homes for sale in Destiny and 24 homes for sale in Destiny by the Sea. They ranged from a three bedroom, two bath, 1850 sf home listed at $499,500 in Destiny to a seven bedroom, six and a half bath, 5696 sf home with an asking price of $6.5 million. This home is on a 60′ lot in Destin's most prestigious gulf front subdivision for single family homes in Destiny by the Sea. If you don't feel like trekking up three flights of stairs, take the elevator.
Destiny and Destiny by the Sea continue to be the best locale for sales of upscale single family homes in the Destin as it relates to number of homes sold according to our MLS. With 72 homes for sale there are some good buys to be had, but it is worth noting that the number of homes for sale in Destiny is down from one year ago as there were close to 100 homes available at that time.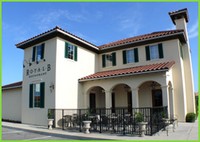 Another thing that has recently made Destiny an even more desirable place to live is the opening of Royal B's Restaurant at the north entrance to Destiny and fronting Hwy 98 (there is an entry without having to get on Hwy 98 coming from Destiny).
The restaurant is owned by the famed Brennan family of New Orleans which includes such landmark restaurants as Brennan's and Commander's Palace.
This entry was posted on Tuesday, July 31st, 2007 at 2:27 pm and is filed under Destin Living, Real Estate News. You can follow any responses to this entry through the RSS 2.0 feed. You can leave a response, or trackback from your own site.