August 13th, 2007 Categories: Panama City Beach Living, Real Estate News, Rosemary Beach Living
There were three single family homes sold in Rosemary Beach in July. It was an interesting mix that produced the least expensive sale of a full size home (cottage in this case) in Rosemary Beach in 2007, a short sale and a unique home featured in "Romantic Home Magazine".
The smallest of the three – 1500 square feet – sold for $925,000, and while another home did sell for slightly less in March – it was a Carriage House with less than 1000 square feet.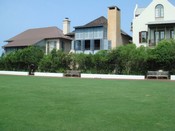 The "Romantic" home (blue shutters) is 2686 square feet, three bedrooms, four baths, a beautiful gulf view and went for $3,350,000. Not only is this home one lot back from the gulf front lots, it also has a great view of the Western Green and on to the gulf. It also includes a private elevator, two fireplaces, a private courtyard with fountain and more. Nice…
Homes Sold in Rosemary Beach – July
Total # of Listings 3
Lowest Price Listing $925,000
Highest Price Listing $3,350,000
Average Price $2,091,667
Avg. Price/SqFt $737
Avg. Days on Market 558
At the beginning of August there were 85 homes for sale in Rosemary Beach. They range in price from a two bedroom, one bath, 710 square foot carriage house that is under construction for $809,000 to a 4356 sf home with six bedroom, six and a half baths for $5.495 million.
While this is the most expensive of the homes for sale in Rosemary Beach, it does have great gulf views and the square footage includes a 484 square foot carriage house. It was featured in Decor Magazine and in South Accents Magazine twice including once when the kitchen (red cabinets and stainless steel appliances) was featured on the front cover in March, 2004.
Graph of Homes for Sale in Rosemary Beach – Early August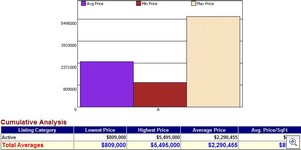 (Click on graph above to enlarge)
This entry was posted on Monday, August 13th, 2007 at 2:18 pm and is filed under Panama City Beach Living, Real Estate News, Rosemary Beach Living. You can follow any responses to this entry through the RSS 2.0 feed. You can leave a response, or trackback from your own site.