August 21st, 2007 Categories: Restaurant Reviews, South Walton Living
Chef/Owner Jim Richard has bounced back from the tragic fire and closing of The Lake Place in Santa Rosa Beach with the opening of the adjoining property and now wildly popular Stinky's Fish Camp.  Richard had physically moved in to the kitchen at Zampieri's on the Destin Harbor (formerly Harry T's) after the fire and is still involved with that operation, but the folks on CR-30A are very happy that he has returned to our neighborhood with Stinky's.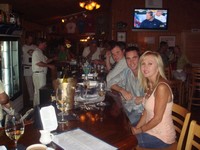 There are several rooms to dine in, but I like the bar area.  Be forewarned that on Thursday through Sunday nights it can be hard to hear more than the person next to you with the live music playing, the happy and talkative mood that seems to engulf everyone upon entry and delighted diners cleaning their plates and toasting to the vibe of Stinky's.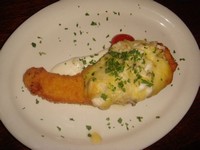 Stinky's does all kinds of oysters that are shucked right at the bar.  There are four raw offerings (different toppings) and five preparations to choose from for their baked oysters.  I like the Ceviche topping for the raw and the Smoked Cheese, Bacon and Horseradish on the baked.  But my guest and I opted for their most popular appetizer – the Jumbo Lump Stuffed Squash Gratin.  The half fried squash was jammed with the sweet lump crabmeat in a wonderful creamy sauce.  Stinky's has a very, very good wine list, and it's fairly priced.  We chose a bottle of Erath Pinot Gris from Oregon, and it worked beautifully with the squash appetizer and our upcoming fish dishes. 
Geoffrey went with the House Specialty Catfish Meuniere.  This is a great dish, and my guest proclaimed that would be her selection on our next visit to Stinky's – which will be soon.  (Click on picture < to Enlarge).  The Catfish is fried to perfection and the Meuniere Sauce is really decadent with overtones of cream, lemon, and a little Worchesterchire Sauce blended in to give it a kick.  Outstanding!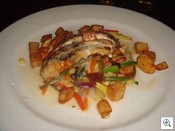 Levin opted for the Seared Fish of the Day on a crisp vegetable stir fry.  This is one of my favorite dishes, and I try not to get it every time that I dine here.  You have several options and while my favorite is swordfish, Levin went with the Mingo Snapper.  (Click on the picture > to Enlarge).  I love the Brabon potatoes that are sprinkled around the plate and the crunchiness of all the other vegetables like zuchinni, carrots, French green beans, onions and more.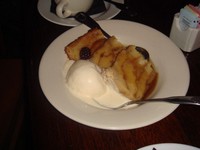 My guest never allows us to exit a restaurant without dessert, and Stinky's doesn't disappoint here either.  For this evening it was a New Orleans Bread Pudding with Vanilla Ice Cream prepared in house.  The warm bread with the creamy, brown sugar sauce with overtones of cinammon and vanilla was countered with the cold creaminess of the vanilla ice cream.  I envisioned them in the back with a hand crank, ice and rock salt making that ice cream. 
Stinky's has quickly become an incredibly popular locals place.  Additionally the visitors that had frequented The Lake Place for close to a couple of decades have quickly adopted this restaurant as a must go place on their vacations here.  The Lake Place is scheduled to reopen again next door, and it will be more of the white tablecloth, fine dining place that it was before.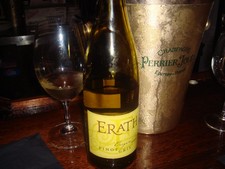 But Stinky's has staked its own niche that should allow it remain popular for a long time to come.  While many question and discuss the name of the restaurant (it's a term of endearment in Louisiana kitchens where Richard spent time honing his skills), there is one thing that both local and visitors alike seem to agree upon - Stinky's is a restaurant/experience not to be missed.
Stinky's does not take reservations, and they don't take credit cards.  Visit their web site at www.StinkysFishCamp.com or call 850–267–3053.
Updated note:  Stinky's has now moved in to the new building that has been constructed right next door.  The more upscale, white table cloth Lake Place is now in the old Stinky's location and is highly recommended.
This entry was posted on Tuesday, August 21st, 2007 at 9:12 am and is filed under Restaurant Reviews, South Walton Living. You can follow any responses to this entry through the RSS 2.0 feed. You can leave a response, or trackback from your own site.