August 23rd, 2007 Categories: Real Estate News, Rosemary Beach Living
Alys Beach near the east end of CR-30A is in the early stages of its development, but this will most assuredly eventually become a great little community to rival Rosemary Beach and Seaside – it's neighbors just east and west. There is 1500 feet of beach, 20 acres of wetlands and on build out there will be 600 residential units both on the north and south side of CR-30A. They have a way to go as currently there are only 12 homes for sale in Alys Beach and about 15 fully constructed.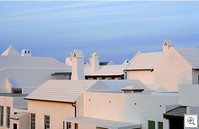 The architects (same group as Seaside and Rosemary Beach) were inspired by the vernacular styles of Antigua, Bermuda and Guatemala. There are white stucco walls and white ridged roofs everywhere in the community. The mix of shops, restaurants, etc will ultimately play an important role in the community. If there one existing store, The Fonville Press, is any indication – then all that will be top notch too. (Click Above to Enlarge –courtesy of http://www.flickr.com/photos/panhandler/).
There was one home that sold in Alys Beach in July. It was a four bedroom, three and a half bath, 2954 square foot home that sold for $2.125 million. Like many of the homes in Alys Beach, there is a real cool courtyard with a fountain big enough to be used for a dipping pool. Nice house!
There are currently twelve homes for sale in Alys Beach ranging from a three bedroom, four bathroom, 2180 square foot home for $1.995 million to a five bedroom, six bathroom, 3060 square foot home for $2.998 million. The former home is designed by town architects Erik Vogt and Marieanne Koury Vogt and really brings out the feel of Alys Beach – nicely decorated too!
Homes for Sale in Alys Beach – Beginning of August
Total # of Listings 12
Lowest Price Listing $1,995,000
Highest Price Listing $2,998,000
Average Price $2,522,750
Avg. Price/SqFt $953
Avg. Days on Mkt 254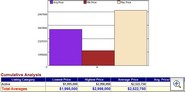 (Click above to Enlarge)
This entry was posted on Thursday, August 23rd, 2007 at 2:40 pm and is filed under Real Estate News, Rosemary Beach Living. You can follow any responses to this entry through the RSS 2.0 feed. You can leave a response, or trackback from your own site.