August 28th, 2007 Categories: Restaurant Reviews, Sandestin Living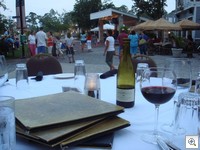 One of our favorite venues for dining, entertainment and people watching is The Marlin Grill in Sandestin's Baytowne Wharf.
When weather permits one of the great dining pleasures of our area is to sit outside and listen to the sounds of a live band in the Events Plaza directly in front of you, have a nice leisurely meal with a good bottle of wine from their extensive wine list and people watch to your hearts content. It can be a very romantic setting with white tablecoths, candles, etc, or it's a great place to take the kids as they can run freely in the Events Plaza. (Click on the picture above to Enlarge).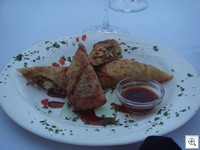 In the past few weeks we met my guest's clients – Rick, Wendell and Pam – on two occasions at the Marlin Grill. One was around dusk on a beautiful Wednesday evening with beautiful weather, and a blues band performing in the plaza in front of a full and bustling crowd. Vicki and I ordered their grilled vegetable salad and one of our favorite appetizers on the Emerald Coast – the Duck Spring Rolls.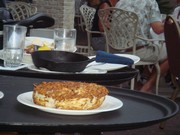 The delicious spring roll appetizer works really well with pinot noir. Because the guys had steaks it made sense to go with that wine selection, so we paired it all with La Crema Pinot Noir from Sonoma County.
The guys also had one of the larger side dishes in South Walton – a side of Marlin Grill's humungous hash browns.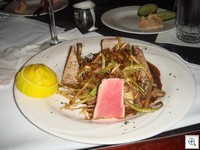 On a more recent weekend night, we all met again in the vibrant and large bar area for another very enjoyable dining experience. We ordered another great appetizer (also comes as a main course) – the Pepper Crusted Seared Tuna. It's sushi grade tuna covered with a five peppercorn blend surrounded by some wonderful fried leeks in a soy based sauce. (Click on the picture above to Enlarge).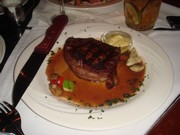 The guys went with steaks again including a Hickory Grilled Filet Mignon. It's an Applewood bacon wrapped filet served on top of a red wine demi-glace topped with roasted garlic and shallots, and laced with bearnaise sauce (bernaise sauce was requested on the side on this occasion).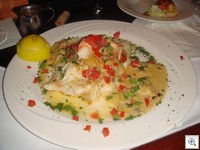 The Marlin Grill has great cheese biscuits that are offered by a young lady who goes from table to table offering those, along with other offerings, from a bread basket. After my guest had four of those, we decided to just share a Grouper Special of the evening topped with crabmeat and shrimp over a cream sauce laced with tasso. Tasso is one of my favorite ingredients, but on this occasion it wasn't forceful enough to have any impact on the creation leaving the dish a little blase. A good bit of lemon and a bottle of Dry Creek Fume Blanc went a long way towards pulling it out of the doldrums.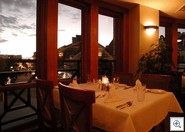 Not only does The Marlin Grill have a cool outside dining area, a lively and upbeat bar area but it also has a great upstairs dining area that can accommodate very large groups. For a more intimate approach, it's also a great place to get a seat next to the window and take in a beautiful sunset over the Choctawhatchee Bay. As night falls you get the colorful lights of the shops in Baytowne Wharf and all the people watching down below. (Click Picture to Enlarge).
Marlin Grill offers one of the most diverse dining experiences of any restaurant on the Emerald Coast – we highly recommend it. A lot of people who own homes in Sandestin just drive their golf carts over, but for the rest of us The Marlin Grill can be reached at 850-351-1990 for reservations or find them online at http://www.marlingrill.com.
This entry was posted on Tuesday, August 28th, 2007 at 12:02 pm and is filed under Restaurant Reviews, Sandestin Living. You can follow any responses to this entry through the RSS 2.0 feed. You can leave a response, or trackback from your own site.