September 10th, 2007 Categories: Real Estate News, Seaside Living
There were two homes sold in Seaside in August. The first home is a four bedroom, four bathroom, 3377 square feet that includes a 484 square foot carriage house and sold for $2.8 million. The other home is one that has been featured on our site for the past couple months, is gulf front with three bedrooms, two and a half baths and a smallish 1925 square feet that sold for $4.475 million.
There are currently 34 homes for sale in Seaside at the beginning of September. They range from a two bedroom, two bath, 1100 square foot home for $1.25 million to a three bedroom, three bath, 2094 square foot gulf front home offered at $5.195 million. The former home is a small cottage but is only two lots back from CR-30A, so you can be at Tupelo Pavillion and down to the beach in a flash.
Homes for Sale in Seaside – Start of September
Total # of Listings 34
Lowest Price Listing $1,250,000
Highest Price Listing $5,195,000
Average Price $2,261,441
Avg. Price/SqFt $1,344
Avg. Days on Mkt 403
(Click on the Graph Below to Enlarge)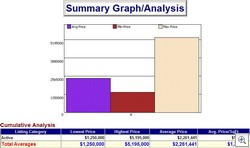 This entry was posted on Monday, September 10th, 2007 at 2:51 pm and is filed under Real Estate News, Seaside Living. You can follow any responses to this entry through the RSS 2.0 feed. You can leave a response, or trackback from your own site.