September 19th, 2007 Categories: Restaurant Reviews, South Walton Living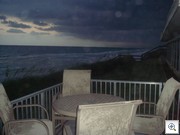 Santa Rosa Beach Club is the only white table cloth restaurant on CR-30A directly on the beach with an unobstructed view right down the coast line.
Even though it's been serving good food for years, there are still many people who think the restaurant is a private club – but not so. (Click above to Enlarge).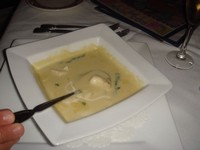 We were in one Friday night not long hoping to see a nice sunset over the gulf, but we got a different kind of show instead. As the evening began, dark clouds over the horizon prevented any sunset but made for a beautiful setting. As darkness fell the lightning lit up the shoreline, the dark clouds in the sky and the white caps of the sizeable waves rolling in from the storm.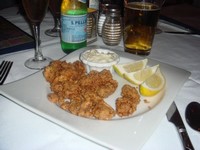 There was live entertainment that night, and everyone was in a festive mood. We made friends with the couple sitting at the table next to us and compared notes on our dishes and drinks. We started with some fried oysters with tartar sauce that were done just right, some asparagus and crabmeat soup and the house salad. I thought the soup was a little salty but overall we enjoyed all three dishes.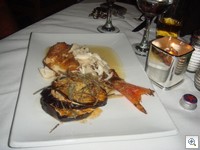 I have eaten at Santa Rosa Beach Club on many occasions to include lunch (try their meat salads – such as chicken, shrimp, etc) and dinner. The main course on this night was one of the best dishes I've ever had there. It was offered as a head on snapper (but my guest insisted the head be removed – not in her presence) stuffed with lemon, topped with jumbo lump crabmeat in a beurre blanc sauce. The side dish was grilled eggplant with a little goat cheese and marinara topped with fried leaks. The fish had a great charcoal taste to it, the sauce wasn't too heavy, the eggplant still had a crispness to it and well the chef just hit the nail on the head with this dish. Outstanding – try it if it's available when you go. (Click on the fish to Enlarge).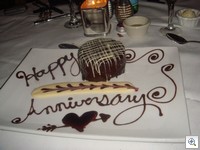 Our new friends were celebrating their anniversary and after my guest commented how much she loved chocolate – a portion was shared with us. She is the dessert expert and I'm not even a huge chocolate fan, but that was a good chocolate tort in my book. (Click to Enlarge).
Santa Rosa Beach Club is the sort of restaurant that for some reason I tend to overlook when I'm dining on CR-30A, even though I definitely know it's open to the public. Based on our last dining experience there, we will be back soon. Call 267-1240 for reservations.
We very much enjoy writing these restaurant reviews. This is our avocation, but our vocation is representing Buyers and Sellers in real estate transactions on the Emerald Coast. If you are interested in learning more about our real estate services, please Click Here.
For our Restaurant Review Credentials, please Click Here.
This entry was posted on Wednesday, September 19th, 2007 at 3:03 pm and is filed under Restaurant Reviews, South Walton Living. You can follow any responses to this entry through the RSS 2.0 feed. You can leave a response, or trackback from your own site.