September 25th, 2007 Categories: Panama City Beach Living, Restaurant Reviews, Sandestin Living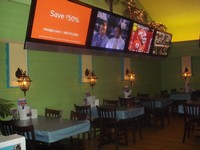 It's that time of the year when sports bars become very important in many of our lives. With the advent of Thursday and Friday night college football games, the only two nights that football junkies can't get their fix is on Tuesday and Wednesday. And with the upcoming baseball playoffs, look for those two nights to be taken too. Nothing is more fun than gathering with friends and family to take in one of these sporting events at one of our great sports bars. Here are our nominations for The Top 5 Sports Bars in our area in descending order.
Honorable Mention – Sportsbook Grill & Bar in Destin, Pineapple Willies on Thomas Drive in Panama City Beach & Acme Oyster Bar in Baytowne Wharf in Sandestin.
Number 5 – Calypso Beach Cafe and Sports Grill in the west end of Panama City Beach on Front Beach Road next to Calypso Condominiums and Pier Park. My guest and I were there an opening day with a bunch of friends who are avid Ole Miss fans. We watched them hang on to beat Memphis 23-21 in one of the many rooms that are available in this much larger than meets the eye venue. The Rebels haven't tasted victory again after three more games, although a moral victory/loss to the Gators gives Rebel fans a glimmer of hope.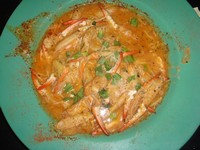 This is an excellent place to watch your favorite team with over 100 televisions available with 16 of them being larger than 50″. The manager is incredibly energetic and would make for an excellent special teams coach, as the guy is fired up like crazy every time I've seen him. We sampled some of their game fare with the best being the sauteed crab claws. They were a little stringy but the sauce was excellent, and everybody at the table was dipping whatever they had (crackers, tortilla chips, quesadillas, etc) in to that sauce. Hoddy Toddy!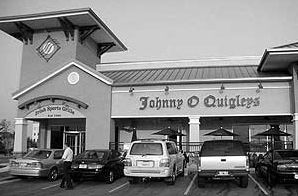 Number 4 – Johny O'Quigleys in Destin. Drop the shoppers off at Destin Commons and the readers off at Books A Million or Barnes & Noble and pick them up in three hours or so after the game is over. O'Quigleys is across the street from the mall, has plenty of bar fare and a rollicking place to take in the game with a whole lot of televisions and a lively crowd. We watched the Saints go out of the playoffs last year at the hands of Da Bears at this site, and it was an unhappy partisan Saint crowd that left the restaurant that day. Three games in to the season and the Saints nor the fans have recovered from that beating based on their performance (0-3) so far this year.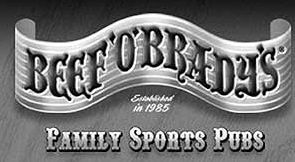 Number 3 – Beef O'Brady's in the Market Shops at Sandestin. Not only do you have televisions at your table to go along with the big screens, but you have an outside area (with bar) to take in games (and people watch) when the weather cooperates – which is most of the time. We arrived late a couple of Saturday nights ago, sat outside and saw the last few minutes of Alabama's dramatic and exhilirating (for Tide fans) comeback win over the Razorbacks of Arkansas. Tide fans are now back to earth after the Bulldogs returned to the hedges with an overtime victory in Tuscaloosa. Alabama backers still have the inkling that Saban is the one to lead them back to a national championship that they haven't tasted since the Sugar Bowl victory over Miami in 1993.

Number 2 – Buster's Oyster Bar & Grill in Miramar Beach. I have to admit that I'm influenced by their oysters and what I feel is the best gumbo in the area that is served at Buster's. But beyond that there is always a lively crowd on game day at Buster's watching the 30 televisions that are on display. Buster's has been a game day tradition for 20 years, and in our area – that's a real long time. They have a great children's menu, and it is probably the most kid friendly place to take the whole family to watch the game.
Number 1 – Angler's Beachside Grill on Okaloosa Island in Ft. Walton – a legend!Click Here to read a full review of Anglers.
We very much enjoy writing these restaurant reviews. This is our avocation, but our vocation is representing Buyers and Sellers in real estate transactions on the Emerald Coast. If you are interested in learning more about our real estate services, please Click Here.
For our Restaurant Review Credentials, please Click Here
This entry was posted on Tuesday, September 25th, 2007 at 7:25 pm and is filed under Panama City Beach Living, Restaurant Reviews, Sandestin Living. You can follow any responses to this entry through the RSS 2.0 feed. You can leave a response, or trackback from your own site.