September 25th, 2007 Categories: Destin Living, Restaurant Reviews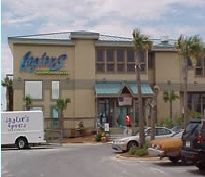 Angler's Beachside Grill on Okaloosa Island in Ft. Walton Beach is our Number One favorite sports bar in the area.
There's plenty of televisions downstairs, but if you want to feel like you are in the stadium with some really rabid, imbibing fans and a whole bunch of them at that – the second floor of Angler's is a place like no other.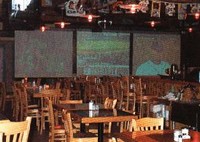 Angler's has four 9 foot screens and 91 additional televisions. The place draws an incredibly diverse crowd who swarm in to follow their favorite team.
This includes locals, tourists and lots of folks affiliated with Eglin that can follow their team no matter where they call home.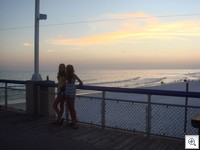 We were out late one recent Saturday afternoon around sunset to witness the Auburn Tigers eventually fall to the South Florida Bulls.
Tommy Tuberville is starting to feel a little heat and with trips to Florida, Arkansas and LSU in three of their next four games – things could easily get hotter still on the Loveliest Village of the Plains. (Click Picture to Enlarge).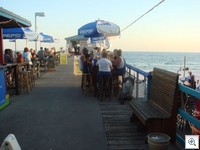 Angler's is an incredible setting in that it stands at the entrance to the Okaloosa Island Pier (one dollar to enter the pier to fish or just take in the awesome setting) that goes way out in to the Gulf of Mexico. There is also a Kids Playground located right on the beach below and plenty of people sunning or walking on the beach depending on the time of day. (Click to Enlarge).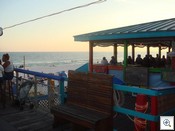 There's plenty of outside seating both leading up to the pier entrance (great place to watch the kids play below) and in a separate outside covered seating area that is ideal for watching the sunset or the moon over the gulf.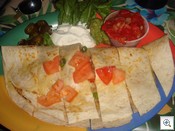 On this particular night we had the typical sports bar fare with Nachos Supreme, Fried Crab Claws and Chicken Quesidillas. I found the Quesadillas to be the best of the group, but if you are in to quantity – there were a lot of nachos there.
If you are ready for some football, you won't find a better place to watch the game and feel like you are on the 50 yard line than Angler's Beachside Grill. They can be reached at 8507960260.
We very much enjoy writing these restaurant reviews. This is our avocation, but our vocation is representing Buyers and Sellers in real estate transactions on the Emerald Coast. If you are interested in learning more about our real estate services, please Click Here.
For our Restaurant Review Credentials, please Click Here.
This entry was posted on Tuesday, September 25th, 2007 at 6:09 pm and is filed under Destin Living, Restaurant Reviews. You can follow any responses to this entry through the RSS 2.0 feed. You can leave a response, or trackback from your own site.