October 2nd, 2007 Categories: Real Estate News, South Walton Living
There was one condo sold in Grand Dunes in September. The unit (740) is in the North Tower and was an assignment of contract. The unit sold for $1,045,000. This is one of the last units that will be sold as an assignment of contract, as the time frame to close on all units contracted for in pre-construction has pretty much passed.
There are currently 45 condos for sale in Grand Dunes at the beginning of October. They range in price from a third floor unit in the North Tower for $1,088,000 to a two story penthouse in the South Tower for $4.5 million. The penthouse has 4,956 square feet with five bedrooms and five baths.
Condos for Sale in Grand Dunes – October 1
Total # of Listings 45
Lowest Price Listing $1,088,000
Highest Price Listing $4,500,000
Average Price $1,801,904
Avg. Price/SqFt $631
Avg. Days on Mkt 226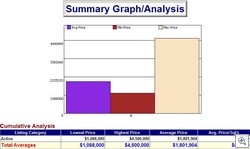 (Click Graph to Enlarge).
This entry was posted on Tuesday, October 2nd, 2007 at 3:49 pm and is filed under Real Estate News, South Walton Living. You can follow any responses to this entry through the RSS 2.0 feed. You can leave a response, or trackback from your own site.