October 3rd, 2007 Categories: Real Estate News, Rosemary Beach Living
There were no homes sold in Alys Beach in September. However, towards the end of the month a three bedroom, two and a half bath 2484 square foot home went under contract and is pending. The home was listed at $2.917 million and is scheduled to close at the end of November.
At the beginning of October there are nine homes for sale in Alys Beach. They range in price from $1.995 million for a three bedroom, four bath 2180 square foot home to $2.998 million for a five bedroom, six bath 3060 square foot home designed by Miami architects Martinez and Alvarez.
Homes for Sale in Alys Beach – October 1st
Total # of Listings 9
Lowest Price Listing $1,995,000
Highest Price Listing $2,998,000
Average Price $2,421,222
Avg. Price/SqFt $916
Avg. Days on Mkt 295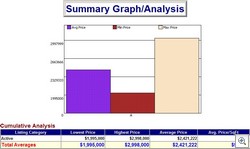 (Click Graph to Enlarge).
This entry was posted on Wednesday, October 3rd, 2007 at 7:42 pm and is filed under Real Estate News, Rosemary Beach Living. You can follow any responses to this entry through the RSS 2.0 feed. You can leave a response, or trackback from your own site.