October 3rd, 2007 Categories: Destin Living, Real Estate News
There was one home sold in Destiny and Destiny by the Sea in September. The home is in Destiny on Seastar Vista and is 2773 square feet with four bedrooms, two full baths and two half baths and sold for $750,000.
At the first of October there are 78 homes for sale in Destiny and Destiny by the Sea. The least expensive home is 1850 square feet with three bedrooms and two baths and is listed for $499,500 while a 9000 square foot gulf front home in Destiny by the Sea with 9000 square feet with six bedrooms and seven baths with an asking price of $13.5 million.
Homes for Sale in Destiny & Destiny by the Sea – October 1st
Total # of Listings 78
Lowest Price Listing $499,500
Highest Price Listing $13,500,000
Average Price $1,834,677
Avg. Price/SqFt $504
Avg. Days on Mkt 228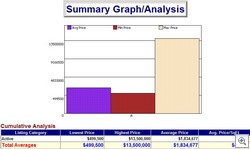 (Click Graph to Enlarge).
This entry was posted on Wednesday, October 3rd, 2007 at 7:03 am and is filed under Destin Living, Real Estate News. You can follow any responses to this entry through the RSS 2.0 feed. You can leave a response, or trackback from your own site.