October 21st, 2007 Categories: Restaurant Reviews, Sandestin Living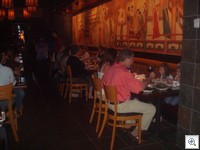 Christopher Renteria is Operating Partner and in the forefront of Flemings Steak House in Sandestin. Chris and his entire staff have a real positive, professional and upbeat attitude and that along with one of the coolest settings in our area make Flemings a favorite haunt of ours. Chris was kind enough to invite us to the pre-opening party last night at P.F. Changs in Sandestin, as Changs is a sister restaurant to Flemings.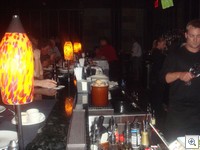 The opening of Changs has been highly anticipated in our area and based on our dining experience last night the place will be packed for a long time to come. The main seating area pictured in the first paragraph above (click on all pictures to enlarge) is not a mind boggling beautiful setting, but you come here for the food. Even though we had a table reserved, we opted for the bar where we had outstanding service.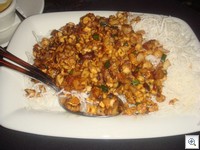 For starters I went with my favorite at Changs (having eaten at other Changs) the Chicken Lettuce Wraps. Along with spiced chicken there is green onions, water chestnuts, black mushrooms, rice sticks, sesame oil, garlic and minced chicken sauce. Its a great dish and although I dont go for the rice sticks when I make my wrap, I dont feel overly stuffed for the main course.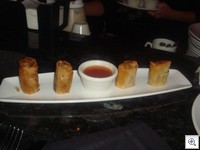 My guest ordered the Crab Wontons, but because the place was totally packed and there was action aplenty she was accidentally served the Harvest Spring Rolls. The perfectly crunchy exterior had stuffed inside bamboo shoot strips, black mushrooms, cabbage, carrots, celery, soy sauce, sesame oil, mushroom oyster sauce with a sweet and sour sauce. Others around us had the same appetizer, and everyone was pleased.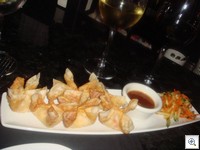 When one of the waitstaff inquired if the Won Tons were good, I pointed out that we got the Spring Rolls but were very happy with them. She insisted that we also get the Won Tons, and not wanting to disappoint her we tackled them next. Another crispy but thicker exterior was filled this time with crab meat, cream cheese, garlic, ginger, bell pepper, onions, white pepper and a spicy plum sauce. I liked the dish as the ginger aspect of it gave it a pleasant and different taste, but this was my least favorite dish of the night.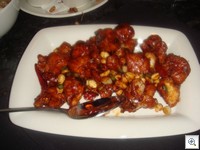 Not trying to be overly imaginative (or perhaps starting to zone out a little after spending all afternoon at the Rosemary Beach Wine Festival), I ordered the Kung Pao Chicken. Even in my haziness, it turned out to be a good move. The marinated chicken was surrounded by chili pepper pods (be forewarned on these I couldnt taste my wine for a few sips after consuming one), garlic, Kung Pao Sauce, peanuts, dried chili flakes, sesame oil and green onions.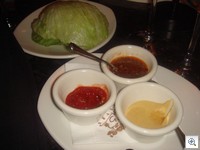 The dish was a little dry, but that was fine as I had plenty of things around me to remody that. Along with a huge bowl of moist brown rice (white rice also available), a trio of sauces was delivered at the beginning of our meal. The red sauce delivered a little more kick than I wanted, the mustard horseradish sauce also had kick but a likeable kick and the third was also good with a soy sauce base and a small mixture of the other two.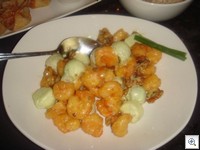 My guest ordered the Shrimp with Candied Walnuts. I thought the dish sounded too sweet with honeydew melons and a creamy lemon sauce, but it was quite good.
I was struck by how fresh the shrimp tasted, and the dish strangely enough tasted less sweet when you combined some melon with the shrimp. All in all a good dish, but you have to be in the mood.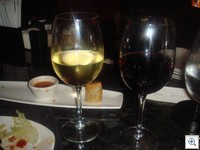 Changs has a decent wine list, and we gave it a small workout by trying different things by the glass. For the chicken wraps, we went with La Crema Pinot Noir a wine that is our go to pinot noir as many places in our area serve this by the glass, and its a good bargain. For the Spring Rolls, J Pinot Gris was the choice. We tried the Charles Krug Sauvignon Blanc with crab won tons I like this one because its not overly loaded with grapefruit as many sauvignon blancs can be. For the shrimp dish, the Kim Crawford Unoaked Chardonnay was our choice. My excuse being the wine festival, I cant remember what I had with the Kung Pao Chicken.
We had a great evening at Changs, and this has to be one of my favorite chain restaurants anywhere. The waitstaff was positive, attentive and professional. I really liked the music and the vibe in the bar area, and the wine and food totally lived up to our high expectations. I know that there is oftentime lines to get in to Cantina Laredo, but I see P.F. Changs being even more popular in our area. Go!
We very much enjoy writing these restaurant reviews. This is our avocation, but our vocation is representing Buyers and Sellers in real estate transactions on the Emerald Coast. If you are interested in learning more about our real estate services, please Click Here.
For our Restaurant Review Credentials, please Click Here
This entry was posted on Sunday, October 21st, 2007 at 2:48 pm and is filed under Restaurant Reviews, Sandestin Living. You can follow any responses to this entry through the RSS 2.0 feed. You can leave a response, or trackback from your own site.