November 9th, 2007 Categories: Real Estate News, Seaside Living
October was not good for activity here, as no homes sold in Seaside during the month. However, there is one home pending on Forrest Street that is scheduled to close the middle of November.
There are currently 29 homes for sale in Seaside. These include an 1100 square foot, two bedroom, two bath home priced at $1.25 million. The top of the line is a three bedroom, three bath, 2094 square foot home on the gulf for $5.195 million.
Homes for Sale in Seaside – November 1st.
Total # of Listings 29
Lowest Price Listing $1,250,000
Highest Price Listing $5,195,000
Average Price $2,140,000
Avg. Price/SqFt $1,328
Avg. Days on Market 471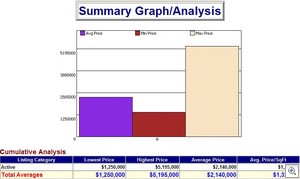 (Click on the Graph Above to Enlarge).
This entry was posted on Friday, November 9th, 2007 at 2:04 pm and is filed under Real Estate News, Seaside Living. You can follow any responses to this entry through the RSS 2.0 feed. You can leave a response, or trackback from your own site.