November 9th, 2007 Categories: Destin Living, Real Estate News
There were two homes sold in Kelly Plantation in October. The first was for $1,050,000 and is a four bedroom, three bath home with 3683 square feet. The other sold for $2.948 million and is a really nice home with 132 feet of bay frontage, six bedrooms, five and a half baths and 6360 square feet. This sale was the second highest price home sold in Kelly Plantation in 2007.
There are currently 69 homes for sale in Kelly Plantation at the first of November. They range in price from $575,000 for a four bedroom, three bath home with 2,414 square feet to the 16,000 square foot bay front mansion that I typically mention in each monthly post as being the most expensive home in Kelly Plantation. Interestingly this home's price was raised in October from $11,250,000 to its current $12,400,000. Currently in our market, it is unusual to see price increases on any property. This property has been on the market for about 100 days as of this writing.
Homes for Sale in Kelly Plantation – November 1st
Total # of Listings 69
Lowest Price Listing $575,000
Highest Price Listing $12,400,000
Average Price $1,604,992
Avg. Price/SqFt $387
Avg. Days on Market 199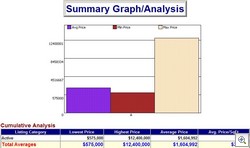 (Click on the Graph Above to Enlarge).
This entry was posted on Friday, November 9th, 2007 at 7:19 am and is filed under Destin Living, Real Estate News. You can follow any responses to this entry through the RSS 2.0 feed. You can leave a response, or trackback from your own site.