November 13th, 2007 Categories: Real Estate News, Sandestin Living, South Walton Living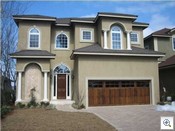 The price, location & beauty of this home make this head and shoulders above all other homes on the bay in our area – thus this is the first time we have done a post about one of our listings. This new, never lived in home is listed at $1.395 million.
(Click on All Pictures to Enlarge).

This home is not on the grounds of Sandestin and is technically in Miramar Beach, but this picture shows you the proximity to Baytowne Wharf in Sandestin. And you don't have the traffic of Sandestin because this home is near the end of a dead end street.

The picture to the left shows the new two story dock. The backyard and dock can be reached via exiting your screened in back porch that includes swimming pool, hot tub and outdoor kitchen. A central security system is also included.

The home is at 730 Bayshore Drive (north on Geronimo off Highway 98 – Resort Interiors to the north and Copper Grill to the south) has 3850 sf, 5 bedrooms, 5 baths with 24 foot ceilings in the downstairs den area. The den and kitchen have travertine floors, granite counters and stainless steel appliances.

Of the eight new (since 2005) homes listed directly on the bay on Bayshore Drive, this home is $117 per square foot less than the next closest and $200 per square foot less than the third lowest. One might easily think this is a custom home.
The average price for the other new bay front homes on Bayshore Drive is $664 per sf, while this home is $362 per square foot. In fact this beautiful house, completed in 2007, is the least expensive new home (built since 2005) on the bay in not only Sandestin but all of Destin & South Walton.
This entry was posted on Tuesday, November 13th, 2007 at 6:14 am and is filed under Real Estate News, Sandestin Living, South Walton Living. You can follow any responses to this entry through the RSS 2.0 feed. You can leave a response, or trackback from your own site.