December 2nd, 2007 Categories: Restaurant Reviews, South Walton Living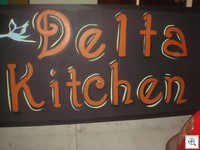 We had heard good things about the new Delta Kitchen in Freeport so this past weekend we ate both Friday and Saturday night at this new restaurant in Freeport.  Although the sign was sitting outside, look for it installed soon.
(Click on the picture above – and all pictures – to enlarge).
It was actually coincidental that we ate there two nights in a row but after an overzealousness on our part to try some of the beer and wine left over from Big City Grill, I left my credit card and had to return on Saturday to retrieve.  But the experience was so good on Friday, that we were happy to make a return visit the next night.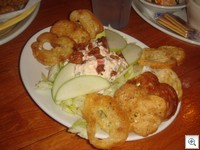 In a word the food there is excellent.  Most of us on the Emerald Coast grew up in the South and fully understand the culinary siginifance in our upbringing of great fresh vegetables either prepared at home by our mothers and grandmothers or at the local meat and three.  Delta Kitchen brings back those memories and kicks them up a notch.  A chalk board menu (Red Bar/331 anyone) alerts you to the day's menu which changes often.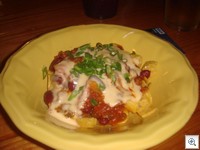 For starters a complimentary small plate of boiled peanuts and pimento cheese with crackers is brought to the table.  This is an excellent touch with moist salty peanuts offset by the smooth pimento cheese with a nice dose of cream cheese added.  The first night we shared the Apple Bacon BLT Dip (pictured next to the above paragraph), and the next night we went with the Frito Pie Supreme (pictured here).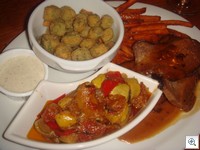 For better or worse I've never eaten at Sonic, but my guest says the Frito appetizer is reminiscent of a dish they use to serve there.  It's a bunch of Fritos topped with chili and melted cheese.  It's gotta be bad for you, but man it's good.  The first night my guest and I shared the beef brisket, fried sweet potatoes, fried okra and squash casserole.  The brisket and sweet potatoes were as good as I've ever had.  Forrest Jamison, the chef/owner, told us the brisket had been cooked for 12 hours at low temperature and easily you could cut it with a fork.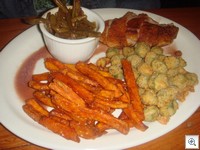 My daughter had the slow roasted duck, fried okra, fried sweet potatoes and green beans.  We actually shared the two plates between us and as you can see the portions are extremely generous.  Her duck was outstanding and the green beans were a real revelation with an incredibly tasty broth at the bottom of the bowl that had a delicious tomatoey beef stock kind of taste to it.
The next night I made it a point to imbibe less vigorously and remember my credit card and that mission was accomplished – although the beer in the cold glass with those boiled peanuts was real nice for starters.  Dennis helped us both nights, and he (along with the rest of the staff who all came by and spoke with us) contributed to the great dining experience.  We had to have the green beans again this time along with Slow Roasted Pork, fried sweet potatoes (yes you will see them in every picture), creamed corn, and fresh tomato salad.  Even the simple tomato salad was so clean and tasty with fresh basil and nice extra virgin olive oil.
It would be nice if it was a little closer to South Walton (it's on Hwy 331 in a small strip center and almost to, and just south of, the Hwy 20 intersection), but it's worth the short journey.  They are open from 11:00 till 9:00 Monday– Friday.  Then dinner only at 5:00 on Saturday and closed on Sunday.  Go!
We very much enjoy writing these restaurant reviews. This is our avocation, but our vocation is representing Buyers and Sellers in real estate transactions on the Emerald Coast. If you are interested in learning more about our real estate services, please Click Here.
For our Restaurant Review Credentials, please Click Here
This entry was posted on Sunday, December 2nd, 2007 at 2:20 pm and is filed under Restaurant Reviews, South Walton Living. You can follow any responses to this entry through the RSS 2.0 feed. You can leave a response, or trackback from your own site.