December 6th, 2007 Categories: Destin Living, Real Estate News
There were no homes sold in Kelly Plantation in November, although there are two homes pending – both scheduled to close in December.
Kelly Plantation currently has 69 homes for sale. They range from a four bedroom, three bath home with 2414 square feet for $575,000 to a huge home on the bay for $12.4 million. The next highest price is a bayfront, six bedroom, six bath, 8414 square foot home with 36 foot high ceilings in the living room for $6.38 million. This home can also be leased for $16,000 per month.
Kelly Plantation Homes for Sale – December 1st
Total # of Listings 69
Lowest Price Listing $575,000
Highest Price Listing $12,400,000
Average Price $1,617,590
Avg. Price/SqFt $385
Avg. Days on Market 186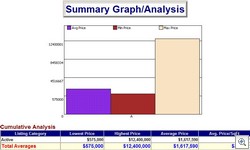 (Click on Graph Above to Enlarge).
This entry was posted on Thursday, December 6th, 2007 at 11:09 am and is filed under Destin Living, Real Estate News. You can follow any responses to this entry through the RSS 2.0 feed. You can leave a response, or trackback from your own site.