Archive for the 'Rosemary Beach Living' Category
August 13th, 2007 Categories: Panama City Beach Living, Real Estate News, Rosemary Beach Living
There were three single family homes sold in Rosemary Beach in July. It was an interesting mix that produced the least expensive sale of a full size home (cottage in this case) in Rosemary Beach in 2007, a short sale and a unique home featured in "Romantic Home Magazine".
The smallest of the three – 1500 square feet – sold for $925,000, and while another home did sell for slightly less in March – it was a Carriage House with less than 1000 square feet.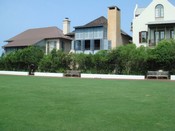 The "Romantic" home (blue shutters) is 2686 square feet, three bedrooms, four baths, a beautiful gulf view and went for $3,350,000. Not only is this home one lot back from the gulf front lots, it also has a great view of the Western Green and on to the gulf. It also includes a private elevator, two fireplaces, a private courtyard with fountain and more. Nice…
Homes Sold in Rosemary Beach – July
Total # of Listings 3
Lowest Price Listing $925,000
Highest Price Listing $3,350,000
Average Price $2,091,667
Avg. Price/SqFt $737
Avg. Days on Market 558
At the beginning of August there were 85 homes for sale in Rosemary Beach. They range in price from a two bedroom, one bath, 710 square foot carriage house that is under construction for $809,000 to a 4356 sf home with six bedroom, six and a half baths for $5.495 million.
While this is the most expensive of the homes for sale in Rosemary Beach, it does have great gulf views and the square footage includes a 484 square foot carriage house. It was featured in Decor Magazine and in South Accents Magazine twice including once when the kitchen (red cabinets and stainless steel appliances) was featured on the front cover in March, 2004.
Graph of Homes for Sale in Rosemary Beach – Early August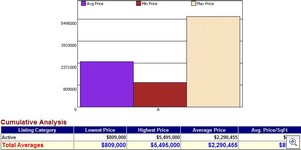 (Click on graph above to enlarge)
Spoken by Ronnie Coleman | Discussion: 38 Comments »
August 9th, 2007 Categories: Real Estate News, Rosemary Beach Living
June was a very good month for homes sold in Rosemary Beach. There were only three, but the dollars fetched for a couple of them really catch your eye. Those two were a five bedroom, six bath, 4297 sf home that sold for $4.16 million and a seven bedroom, seven bath, 4500 sf home that sold for a casual $7.88 million.
Two homes in Rosemary Beach were also sold in May for $2.5 million and $3.25 million. These sales (and the price points) underscore the firepower and appeal of Rosemary Beach.
Homes Sold in Rosemary Beach – May & June

Total # of Listings 5
Lowest Price Listing $2,143,000
Highest Price Listing $7,880,000
Average Price $3,986,600
Avg. Price/SqFt $1,064
Avg. Days on Mkt. 277
(Click on graph below to enlarge)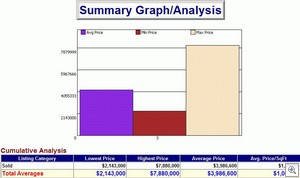 At the beginning of July there were 84 homes for sale in Rosemary Beach. The least expensive home is actually a carriage house with one bedroom, one bath and 599 sf for $899K. The home plans have been approved for a three bedroom, three and a half bath main home on a pretty large lot by Rosemary Beach standards.
The upper end of the spectrum in homes for sale in Rosemary Beach from that group include a six bedroom, six and a half bath, 4356 sf home listed at $5.495 million. This incorporates a 3872 sf main home with a 484 sf carriage house.
Spoken by Ronnie Coleman | Discussion: 1 Comment »
August 4th, 2007 Categories: Restaurant Reviews, Rosemary Beach Living

One of the coolest, laid back places to go in our area on a Friday afternoon is the Fonville Press at the entrance to the homes in Alys Beach. 
Fonville Press is a combination book store, coffee/pastry shop and wine bar – all packed in to 645 square feet under roof, but plenty of additional room to lounge both in the front and rear of the building.  Fonville Press has the best happy hour buffet on Friday afternoons that I've experienced on the coast.
Alys Beach is a unique and very upscale 160 acre complex in its early stages of development.  There is a ten year build out time that will eventually see 599 homes in Alys Beach and 90,000 square feet of commercial space interspersed amongst the residential components. 
Alys Beach is designed in the same mode as Seaside and Rosemary Beach and is using the same architects who designed those outstanding developments.  Alys Beach is just a short walk or bike road to the west of the homes in Rosemary Beach. 

Fonville Press is owned by the development company, EBSCO of Birmingham, and managed by a very efficient and happy staff.  The wines are somewhat limited, but well selected, and are laid out for everyone to see.  
After drinks are ordered at the bar, help yourself to the buffet and again – it is creative and excellent. 

On a recent Friday visit my guest chose a split of Perrier Jouet Champagne and I had a Spanish Albarino.  The buffet had several meats including salami, ham, a kind of beef jerky (the only item that wasn't excellent) and a pate. 
There was a tremendous selection of cheeses including crumbled goat cheese in olive oil, brie, muenster, a variety of bleu cheeses and more. 

Our favorite was a salad of roasted garlic, sun dried tomatoes, olives and celery in a good olive oil.  There were grapes, olives, carrots and real crisp seasoned croutons.  Click picture > to enlarge and "backspace" to return to article. 
 

We grabbed a cushion seat  against the wall on the back deck and settled in for the Friday afternoon live music.  Fonville has a rotating group of solo musicians who perform there, but on this recent Friday it was blues guitarist, Hans.  I've heard Hans several times at Baytowne Wharf in Sandestin, and both Vicki and I really enjoy his music. 
There are several homes for sale in Alys Beach, and the community is a work in progress.  But we already highly recommend this unique little place whether it be for a cup of coffee, pastries, reading great books, magazines and newspapers from around the world – but most particularly you can't beat Fonville Press for Happy Hour on Friday afternoon. 
Spoken by Ronnie Coleman | Discussion: Comments Off on Best Happy Hour in South Walton – Fonville Press in Alys Beach
July 24th, 2007 Categories: Restaurant Reviews, Rosemary Beach Living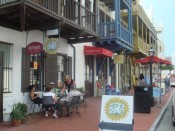 Imagine yourself after a relaxing day at the beach, you've finished a long bath and now you're dressed for a nice dinner. But wait, it's still too early for your reservations.
Why not head to the east end of CR-30A and have a glass of wine with friends first?
The perfect place is nestled amongst the shops and homes in Rosemary Beach, and it is the neighborhood bar – Courtyard Wine and Cheese Bar. Its tucked away but worth the effort to find it.

This really cool and unique little wine bar was previously known as Medusa Rouge and was owned by Shane Hicks, a former studio and touring musician who moved to paradise from Nashville.
When Hicks decided to go back to music, the Krutz family from Jackson, Mississippi stepped up to take the reins. Bryan and Patrick are in their late twenties but know a whole lot about wine.

Bryan is actually the brother that you will see year round. Patrick spends a little time in Rosemary Beach, but spends most of his time in Sonoma, California producing about 700 cases of wine a year. I caught up with Patrick a while back while having a glass of wine with a friend and client, Norman McLean of Nashville. Patrick pointed out that for the most part he makes pinot noir and chardonnay and makes the wine at a shared crush facility in Sonoma County. He said that he was able to sell all of his wine through devotees and about five restaurants/wine bars including of course The Courtyard but also the famous Casanova Restaurant in Carmel, California.

The indoor part of the wine bar is really small with only about eight seats at the bar. But adjoining the bar is a really cool little courtyard that can seat about another 25/30 people.
You'll see a musician playing from time to time here – usually on Sunday late afternoons. Also adjoining the bar is a temperature controlled, glass enclosed retail wine area from which a really nice selection of wines can be purchased.

My guest and I were in a couple of weeks ago, and I started with a glass of the Krutz pinot noir while my guest went with a sparkling wine from California. The pinot noir had a tremendous bouquet. It was a classic pinot noir smell in addition to a real full mouth feel and lingering finish – good stuff.
We also shared the only food offered at Courtyard, cheese with fruit and crackers. We got the small cheese plate and not being a fan of bleu cheeses, they thoughtfully swapped out for another slice of manchego.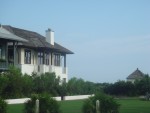 Are you thinking of moving to the beach and hanging out at your new neighborhood bar? If you want to go upscale, this is the place. There are lots of homes for sale in Rosemary Beach, although they are not inexpensive. Currently the least expensive one is only 599 square feet priced at a cool $900,000. But people who invested in Rosemary Beach more than two years ago know that values have skyrocketed.
But it's not necessary to buy a home in Rosemary Beach to enjoy a little vino at The Courtyard Wine Bar. Call 8502311219 if you cant find it.
Spoken by Ronnie Coleman | Discussion: 2 Comments »