Archive for the 'Restaurant Reviews' Category
August 4th, 2007 Categories: Restaurant Reviews, Rosemary Beach Living

One of the coolest, laid back places to go in our area on a Friday afternoon is the Fonville Press at the entrance to the homes in Alys Beach. 
Fonville Press is a combination book store, coffee/pastry shop and wine bar – all packed in to 645 square feet under roof, but plenty of additional room to lounge both in the front and rear of the building.  Fonville Press has the best happy hour buffet on Friday afternoons that I've experienced on the coast.
Alys Beach is a unique and very upscale 160 acre complex in its early stages of development.  There is a ten year build out time that will eventually see 599 homes in Alys Beach and 90,000 square feet of commercial space interspersed amongst the residential components. 
Alys Beach is designed in the same mode as Seaside and Rosemary Beach and is using the same architects who designed those outstanding developments.  Alys Beach is just a short walk or bike road to the west of the homes in Rosemary Beach. 

Fonville Press is owned by the development company, EBSCO of Birmingham, and managed by a very efficient and happy staff.  The wines are somewhat limited, but well selected, and are laid out for everyone to see.  
After drinks are ordered at the bar, help yourself to the buffet and again – it is creative and excellent. 

On a recent Friday visit my guest chose a split of Perrier Jouet Champagne and I had a Spanish Albarino.  The buffet had several meats including salami, ham, a kind of beef jerky (the only item that wasn't excellent) and a pate. 
There was a tremendous selection of cheeses including crumbled goat cheese in olive oil, brie, muenster, a variety of bleu cheeses and more. 

Our favorite was a salad of roasted garlic, sun dried tomatoes, olives and celery in a good olive oil.  There were grapes, olives, carrots and real crisp seasoned croutons.  Click picture > to enlarge and "backspace" to return to article. 
 

We grabbed a cushion seat  against the wall on the back deck and settled in for the Friday afternoon live music.  Fonville has a rotating group of solo musicians who perform there, but on this recent Friday it was blues guitarist, Hans.  I've heard Hans several times at Baytowne Wharf in Sandestin, and both Vicki and I really enjoy his music. 
There are several homes for sale in Alys Beach, and the community is a work in progress.  But we already highly recommend this unique little place whether it be for a cup of coffee, pastries, reading great books, magazines and newspapers from around the world – but most particularly you can't beat Fonville Press for Happy Hour on Friday afternoon. 
Spoken by Ronnie Coleman | Discussion: Comments Off on Best Happy Hour in South Walton – Fonville Press in Alys Beach
July 26th, 2007 Categories: Destin Living, Restaurant Reviews

Ahh…Breakfast at Brennan's, Brunch at Commanders Palace or the Palace Cafe, lunch at Mr. B's, dinner at Dickie Brennan's Steakhouse. The common thread is the Brennan family runs all these restaurants in New Orleans.
But now we have our own branch of the Brennan family's restaurant properties right here in Destin – Royal B Restaurant.

Separate branches of the Brennan family operate independently over a dozen restaurants, and we are glad that we have one here in Destin. Brothers Clark and Blake Brennan have opened this operation in the former site of Bianca's Restaurant.
It's located right on Highway 98 not far from Destin Commons, and the lucky people who have homes in Destiny and homes in Destiny By the Sea can walk, bike or golf cart over as the restaurant is located at the entrance to their subdivision.

As might be expected this is one of the top Brunch spots in our area, and they are open on both Saturday and Sunday. On a recent Sunday, my guest and I joined the McNeeses for a highly anticipated Sunday Brunch. We started with mimosas, and things just got better from there.
The New Orleans Style BBQ Shrimp quickly became one of my favorite appetizers on the coast. The spiced butter sauce gives it a decided kick and the smoked Gouda grit cakes are shaped in a ramekin (I'm guessing) and were crisp on the outside and soft on the inside – delicious!

The McNeeses opted for Turtle Soup au Sherry – an item that you don't see on menus in our area. I love Turtle Soup, the McNeeses gave it two thumbs up and my guest won't touch it because she used to have a pet turtle.
This will be an ideal dish when the weather turns cold, but it's real good any time. The quality of the Sherry makes a difference, and Royal B uses the good stuff.

One of the other highlights of the main courses was my Sauteed Redfish (Fish of the Day) crusted in Creole Spice Pecans, lump crabmeat and Meuniere Sauce.
The pecans could have been a little crisper for my personal taste, but I love redfish and this was a good dish.

My guest and Richard both had the Eggs St. Ives – flash fried fish of the day (grouper that day) with creamed spinach, poached eggs and Hollandaise sauce.
This is classic New Orleans brunch stuff, and they have the offerings that come to mind for a New Orleans brunch like Eggs Hussarde, Eggs Sardou and the like.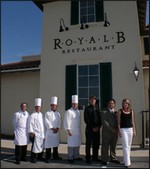 One of the things I'm most impressed with is the friendliness of the Brennans, their Director of Operations, Ed Krepps, and indeed their whole staff. You can tell the corporate staff did a great job of conveying to the rest of the team the ambiance that they were trying to create. This really makes the dining experience all the better.
Do you want New Orleans Sunday (or Saturday) Brunch in Destin? Call Royal B Restaurant at 8502691741 for reservations or visit their website at www.royalbrestaurant.com.
Spoken by Ronnie Coleman | Discussion: 4 Comments »
July 24th, 2007 Categories: Restaurant Reviews, Rosemary Beach Living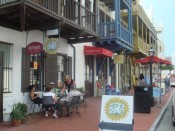 Imagine yourself after a relaxing day at the beach, you've finished a long bath and now you're dressed for a nice dinner. But wait, it's still too early for your reservations.
Why not head to the east end of CR-30A and have a glass of wine with friends first?
The perfect place is nestled amongst the shops and homes in Rosemary Beach, and it is the neighborhood bar – Courtyard Wine and Cheese Bar. Its tucked away but worth the effort to find it.

This really cool and unique little wine bar was previously known as Medusa Rouge and was owned by Shane Hicks, a former studio and touring musician who moved to paradise from Nashville.
When Hicks decided to go back to music, the Krutz family from Jackson, Mississippi stepped up to take the reins. Bryan and Patrick are in their late twenties but know a whole lot about wine.

Bryan is actually the brother that you will see year round. Patrick spends a little time in Rosemary Beach, but spends most of his time in Sonoma, California producing about 700 cases of wine a year. I caught up with Patrick a while back while having a glass of wine with a friend and client, Norman McLean of Nashville. Patrick pointed out that for the most part he makes pinot noir and chardonnay and makes the wine at a shared crush facility in Sonoma County. He said that he was able to sell all of his wine through devotees and about five restaurants/wine bars including of course The Courtyard but also the famous Casanova Restaurant in Carmel, California.

The indoor part of the wine bar is really small with only about eight seats at the bar. But adjoining the bar is a really cool little courtyard that can seat about another 25/30 people.
You'll see a musician playing from time to time here – usually on Sunday late afternoons. Also adjoining the bar is a temperature controlled, glass enclosed retail wine area from which a really nice selection of wines can be purchased.

My guest and I were in a couple of weeks ago, and I started with a glass of the Krutz pinot noir while my guest went with a sparkling wine from California. The pinot noir had a tremendous bouquet. It was a classic pinot noir smell in addition to a real full mouth feel and lingering finish – good stuff.
We also shared the only food offered at Courtyard, cheese with fruit and crackers. We got the small cheese plate and not being a fan of bleu cheeses, they thoughtfully swapped out for another slice of manchego.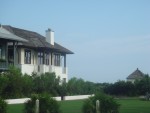 Are you thinking of moving to the beach and hanging out at your new neighborhood bar? If you want to go upscale, this is the place. There are lots of homes for sale in Rosemary Beach, although they are not inexpensive. Currently the least expensive one is only 599 square feet priced at a cool $900,000. But people who invested in Rosemary Beach more than two years ago know that values have skyrocketed.
But it's not necessary to buy a home in Rosemary Beach to enjoy a little vino at The Courtyard Wine Bar. Call 8502311219 if you cant find it.
Spoken by Ronnie Coleman | Discussion: 2 Comments »
July 23rd, 2007 Categories: Destin Living, Restaurant Reviews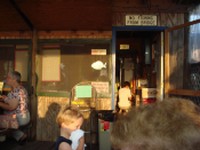 Do you ever feel like skipping the fine dining restaurants in Destin for a night? 
Then grab the kids, the wife and grandma, and throw on your tee shirt, shorts or jeans, sandals or tennis shoes and take the entire family for a fabulous sunset at one of our most down to earth restaurants in Destin – Dewey Destin Seafood on the bay. 
To be more specific it's actually in the bay.  If you want to feel the roots of Destin go no further as Dewey's great, great grandfather, Leonard, founded Destin in 1835.  

Fried seafood is really the way to go here, although I've got some friends that swear by their hamburgers.  It's no frills all the way, and you will see patrons from eight to eighty munching away on baskets that might include fried shrimp, scallops, grouper or soft shell crabs.  You'll get the fries, hush puppies and slaw with whatever you choose.  If you aren't in the mood for fried, they offer grilled and steamed baskets as well. 

On a recent visit with my guest, her mom and my daughter we started with the Smoked Tuna Dip.  The dip comes with tons of Saltine Crackers.  You'll note that there is one Ritz Cracker in the picture. 
That came in a larger group of Ritz that belonged to the Hot Crabmeat Dip Appetizer that we also had.  But we ate everything except that one cracker before realizing that we forgot to take a picture.  Both appetizers were good, and we can all heartily recommend these two. 

Everybody was in a fried shrimp mood, but I veered off with the Parmesan Grouper.  My mistake – should have gone with the crowd.  I evened out my dish with some Glen Ellen Chardonnay, but this is no place to drink wine. 
They don't have regular size bottles of wine – just splits.  This is a beer joint for sure – I was just being a contrarian on the food and the drink.   Note to self – stick to what the place is known for.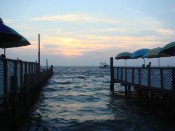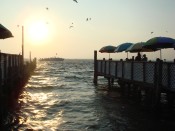 You won't find a better place to watch the sunset in Destin. 
You hear the waves sloshing against the dock, see the boats coming in for the night with tons of seagulls circling all around and you're kicked back in your most casual clothes, enjoying a beverage and watching part of the spectacle that draws millions of people to The World's Luckiest Fishing Village.    
No reservations – just stand in line, place your order, grab a table and they'll bring the food to you.   
Spoken by Ronnie Coleman | Discussion: Comments Off on Sunsets and Sandals – Dewey Destin Seafood in Destin
July 23rd, 2007 Categories: Restaurant Reviews, South Walton Living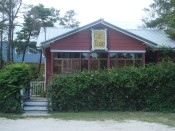 Do you ever need to take that special someone to a romantic, intimate, adult oriented little restaurant? There's no need to fear because we've got just the place, Cafe Tango in Dune Allen Beach.  This small cottage is framed with a jasmine covered walkway and has only about a dozen tables.  The mustard colored walls, wood ceiling and subdued lighting create a warm and inviting ambiance. 
 

The meal begins with some outstanding extra virgin olive oil, a large pile of parmesan/romano cheese and a pinch of raw garlic.  I liked to put a little of this on just about all parts of the meal except dessert.  I also like to place the oil/cheese on one side of the Tango's House Salad and their excellent ginger soy vinaigrette on the other half. 

On a recent visit my guest and I started with the Grilled Jumbo Sea Scallops, served with Caramelized Belgium Endive, and finished with a Key Lime Honey Sauce.  The scallops were cooked perfectly, the sauce is slightly too sweet for my tastes – so I asked for it on the side.  My guest thought the dish was great and that the sauce was fine.  A glass from the bottle of King Estate Oregon Pinot Gris that we ordered along with some lemon juice really made the dish sing for me. 
Cafe Tango has a very good wine list of about 100 bottles in addition to about a dozen wines by the glass and another half dozen dessert wines.  I like the Don Miguel Pinot Noir when I have their excellent duck dish here.  We didn't get the duck this time, but it's finished with a Madeira Wine, Plum and Orange Reduction Sauce.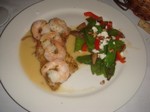 Instead, we then went with my favorite dish at Tango – Pistachio Crusted Grouper, drizzled with Amaretto Buerre Blanc and topped with Jumbo Gulf Shrimp.  This dish comes with Mashed Potatoes and an excellent vegetable medley that includes snow peas, mushrooms, roasted peppers and goat cheese.  If you are on a diet go with all vegetables – on both veggies and potatoes I come back with  the olive oil/cheese mixture.  This is really an outstanding dish and this occasion the grouper was tougher than I've ever had it, but I've had it 20 times and this was the first time it wasn't just right – so I see it as an anomaly.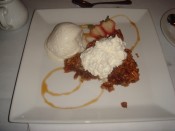 My guest fixated on the caramel pecan pie topped with whipped marscapone cheese and vanilla bean ice cream casually on the side.  I only take (or get) one or two bites of most desserts, but I found the combination of ingredients to be definitely good eats.  There are a couple of nice dessert wines by the glass from Bonny Doon (the Framboise and the Muscat) that I have enjoyed in the past – but we passed on this evening. 

This is easily one of the most intimate and romantic restaurants in South Walton – and really anywhere on the coast.  So, if you feel like an intimate getaway – try Cafe Tango in South Walton.  Reservations at 850-267-0054.
Spoken by Ronnie Coleman | Discussion: Comments Off on No Fear of Intimacy at Cafe Tango in South Walton
July 21st, 2007 Categories: Restaurant Reviews, South Walton Living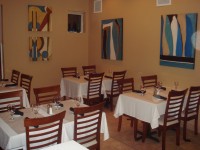 Every town seems to have restaurants that open and close in the same spot that becomes known as a doomed location.
I caught some heat a few years back while writing restaurant reviews for our local paper, The Walton Sun. I wrote about a restaurant in Uptown Grayton and implied that the restaurant was in a "doomed location". Maybe the better/more discrete wording should have been "Secret Location". That restaurant is no longer with us, but there is a very good "Secret" restaurant in that location now that deserves a visit from you – Gravel Road Restaurant in Grayton Beach.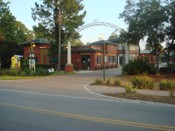 Gravel Road does a brisk lunch business, and I have enjoyed several. It's located across the way from a more well known restaurant, Another Broken Egg Cafe (excellent for breakfast).
You can't see Gravel Road from the highway, but you turn at a Starbucks just past Criolla's going. There are some really cool neighborhoods close by that keep the center busy. I have friends who have homes in The Lake Place in Grayton Beach who walk or bike over to Uptown Grayton.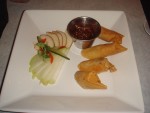 My guest and I had a really nice dinner there last week with our clients and friends, Larry and Laura Blumberg – along with their daughter, Elizabeth, and son in law, Scott.
A bottle of Oregon Pinot Gris (King Estate) for the table and a couple orders of the Shrimp Spring Rolls with Peanut Hoison Sauce. The Hoison sauce had some crunchy peanuts along with the phyllo type dough surrounding the spring rolls.


My guest and I split the Papaya and Cilantro Salad tossed with lime and champagne vinaigarette, served with fresh mozzarella wrapped in prosciutto. I felt the mozzarella/prosciutto was a little dry, but a little olive oil solved that problem and the rest of the dish was light, refreshing and tasty.
The Blumbergs had the House Salad – Mesculan Greens, Asparagus,Walnuts, Red Peppers and Bleu Cheese. I typically would ask to swap goat cheese for the bleu cheese, and even though I didn't order the dish and didn't request it – I have noticed that they are not overly keen on substitutions.


My guest and I got a glass of Morgan Pinot Noir and split the Buffalo Mignon over Tasso Ham and Gouda Creamy Bliss Potatoes, Brussel Sprouts, Truffled Demi-Glace and a side of spaghetti squash note the sliver of spaghetti squash at the left edge of the picture above. That was what Vicki left for me.
The sauce was particularly good as were the vegetables while the buffalo mignon was good but slightly undercooked for the doneness that I had requested. The tasso wasn't quite as assertive as I had been expecting, but tasso can easily overwhelm a dish so it was probably best that it was somewhat dormant. Most of the rest of the table got seafood most notably the (pictured above right) Sauteed Snapper with Seared Sea Scallops, Spaghetti Squash and Broccolini, finished with Citrus Buerre Blanc. I had a bite of that, and it really was a very well done dish.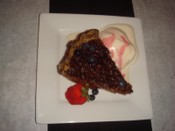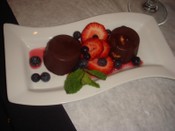 We opted for a couple of desserts and six forks. My guest says it was the best pecan pie she has ever had and plans to go back and buy a whole pie. We all were sharing that along with kind of a Reeses cup made with hard chocolate and crunchy peanut butter in the middle.
I cut a small slice of the pie to share with my guest, but I talked too long to Larry and cant personally give you a review of the pie. but I trust her review. I did like the Reeses cup a lot with it's hard chocolate outer shell and crunchy peanuts in the middle.This was a really enjoyable dining experience for all. This restaurant is hard to find for the tourists in our area, but it's worth the search. Hopefully enough of us locals will support Gravel Road and transform it from our favorite "Secret" Restaurant to a well known restaurant.
Spoken by Ronnie Coleman | Discussion: 2 Comments »
July 20th, 2007 Categories: Restaurant Reviews, Seaside Living, South Walton Living, Watercolor Living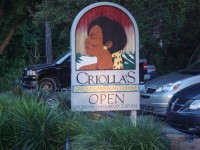 You know I'd been feeling a little melancholy about Criolla's in the past year or so.
Johny Earles landmark restaurant seemed to have lost a little of the panache that it had held for so long – since 1989 to be exact -although I felt the food was always very good and the most creative on the coast. I could easily digress back to the 1980s when I used to visit the area just to eat at the wonderful Paradise Cafe in the site where the now legendary Red Bar resides in Grayton Beach. Johny was co-owner of Paradise, met his wife to be Debbie there and then moved on to Criolla's.
Things took off from there and Criolla's has been named "One of Florida's Top Twenty Restaurants" since 1991 by Florida Trends Magazine. Still it needed a little something, something as things were a little too quiet and the crowd was almost too well behaved . I'm happy to say Criolla's has gotten the shot in the arm that it needed with the complete rework of the bar area (formerly four seats and several tables) that now allows about a dozen diners to sit at an elevated bar and watch many of the dishes prepared in the center section – oftentimes by Johny himself. In addition, the music has been turned up a few decibels such that there now is a vibe in the place which seems to feed over in to the dining rooms as well.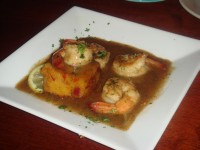 On a recent outing my guest and I were joined by Richard and Dee McNeese (McNeese Title – www.mcneesetitle.com) for an excellent Criolla's experience that made me have the same feel good feeling that I've enjoyed many times there over the years.
My guest and I always share the excellent Barbecue Shrimp with Tasso Cornbread appetizer – an absolutely excellent dish that will be gone without a bite for me if I talk too much. This dish is really good with chardonnay, and we had a glass of Mer Soleil Silver (unoaked) and Dee ordered a bottle of Martinelli – I know that seems like a lot, but she was thirsty.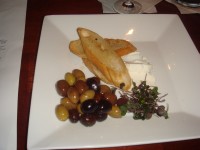 We all shared the Hummus and Guacamole Dip with Tropical Root Chips and then the Marinated Olives and Goat Cheese with Toasted Portuges Baguette.
As with all the dishes, the presentation is excellent at Criolla's. Richard is a cabernet sauvignon guy, so he scored a bottle of Dalla Valle Napa Valley and pinot noir being my thing I selected a bottle of Merry Edwards for Vicki and me.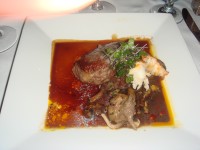 Things were starting to get a little hazy in keeping up with the McNeese's dishes, but I know my guest always wants dessert so we shared the Pan Seared Ribeye Steak and Butter Poached Lobster Tail with Wild Mushrooms, Truffle Butter and Cabernet reduction. My guest likes lobster, I like steak and we both like mushrooms and pretty much everything goes with pinor noir (although I think I remember Dee slipping a little chardonnay over to her at some point).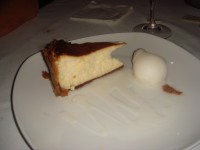 On to the favorite part of the meal – the dessert.
All of us had the excellent Criolla's Coffee, but we had the Key Lime Cheesecake, Graham Cracker Crust, Chocolate Ganache with Lychee Sorbet.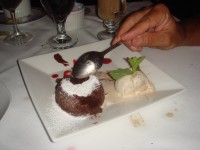 The McNeeses finished off their cabernet by pairing it with the decadent Warm Chocolate Gateau with Peppermint Mocha ice cream (note the picture to the right as Richard is thinking of becoming a hand model if the title business goes south).
There are many other fabulous desserts and dessert wines available. My guest and I go to Criollas sometimes just for the desserts alone.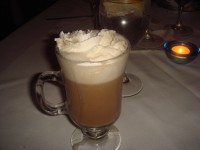 If you thought Criolla's had lost a step, go again. There's a better vibe and the food and wine list are as good as it gets in South Walton.
Johny has always been our number one celebrity chef in South Walton (the nod goes to Tim Creehan in Destin) and after years of cooking at events like the James Beard Foundation, the Sonoma Valley Wine Auction, the Napa Valley Wine Auction and many more – Johny has now gotten Criolla's back as a must visit destination in Grayton Beach. Get more information on Criolla's at www.criollas.com or call them at 8502671267.
Spoken by Ronnie Coleman | Discussion: 1 Comment »